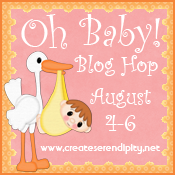 Welcome to the Third Day of the Oh Baby! Bog Hop. If you've arrived from
Corrine's blog
then you are on the right track, but if you've just stopped to visit why not hop over to
Emily's blog
and start at the beginning so you don't miss a thing! This hop runs for 3 days, August 4-6, so be sure to stop by and visit each day to see the beautiful projects posted daily,Its not to late to go through all three days and leave some love to all these fantastic crafters!Theres lots of great Blog Candy to be won!
Completed Storyboard
Blog Candy
My final project is a layout I made as part of a Storyboard I made for my Scrapbooking Class at Michael's Arts & Crafts. Its a baby boy layout, something I rarely do on this blog! Take a good look for it is most likely my last as my passion is in cardmaking, The cuts are from New Arrival and the papers are scraps from my stash. The frames are cut and embossed using my Spellbinders die cuts. The brads on the banner pulled by the plane spell "baby". I found those at Ollies for .99...if you have a store near you it is worthwhile checking out. They don't have a lot but every now and then I find a great deal.
I promised blog candy today didn't I?
Here it is:
You have a chance to win :
1 Maya Road Sheer Home Ring Album
1 K&Company cloth covered Jumbo Brads
1 Card ofJoAnns Craft Embellishments
Remember-to be eligible you must be a follower,you must leave contact information in your comments daily for all three days and you must have a US or Canadian address. For an extra chance to win "like" my FB page and leave a comment and come back and tell me you did that.
Trust me I won't fill your wall as I have been too busy to post very often!
Also a Blog Hop call. I will be celebrating a very big (OLD) Birthday AND my fiirst blogaversary in October and would like you to celebrate with me in a blog hop! If you wish to join me please email me using the link on my blog! I am looking for sponsors as well..so spread the word.
With that I leave you to visit the one and only
Lisa from Handmade with Love
. Wait until you see her fabulous final project!
Here is the line up just in case you lose your way!
Emily:
http://www.createserendipity.net/
Jen:
http://www.memorieswithjen.blogspot.com/
Dawn:
http://dawnsdesignsthatdelight.blogspot.com/
Lisa:
http://bitbythecricutbug.blogspot.com/
Corrine:
http://celebratingordinarymoments.blogspot.com
Kathie:
http://kathleessnippitsncricuts.blogspot.com
/ <You are here!
Lisa P:
http://handmadewithlove-lisa.blogspot.com/
Gill M :
http://creationsbygillm.blogspot.com/
Nancie B:
http://www.alittlepieceofmebynancie.blogspot.com/
Kathy:
http://kathyand3kids.blogspot.com/
Kimmarie:
http://kimmarieskorner.blogspot.com/
Janet:
http://www.createatdreamscrapbooks.blogspot.com/
CrafterBerly (Kimberly):
http://www.crafterberly.com/
Deborah ~
http://www.scrappingmamma.net/
April:
http://www.curlsandgrins.blogspot.com/
Michelle:
http://www.designsoncloud9.blogspot.com/
Gina:
http://californiascrappin-gcinderella21.blogspot.com/
Anita:
http://www.anitaandbugs.blogspot.com/
Dana:
http://www.Danascraftycorner.blogspot.com/
Elsa :
http://www.justafewdesigns.blogspot.com/
Rachelle:
http://www.creationsbyrachelle.blogspot.com/
Theresa :
www.thescrapbookingqueen.com
Lisa:
http://honeybearzdesigns2011.blogspot.com/
Suzanne:
http://cricutcraftingrammy.blogspot.com/
Libby:
http://psastampcamp.blogspot.com/
Thank you so much for taking the time to stop by!
Hugs!
Kathie